Canon has unveiled the EOS 500D (Digital Rebel T1i), the latest addition to its compact DSLR series. The upper-entry-level camera features a 15.1 MP APS-C CMOS sensor with 1080p HD video recording at 20fps. It also offers a 3.0 inch LCD with 920,000 dot resolution and an ISO sensitivity range expandable up to 12800 equivalent. It includes a faster Digic 4 processor offering better noise reduction at higher ISO's and continuous shooting speeds of up to 3.4 fps delivering 170 large JPEG images in a single burst.
The new 15.1MP EOS 500D which offers photographers an outstanding combination of features. Following the launch of the first Canon EOS camera to shoot movies – the EOS 5D Mark II in September 2008 – Canon now brings Full High Definition (HD) video capability to consumers in a compact and lightweight DSLR.
The EOS 500D heralds a new way for photography enthusiasts to capture their world. It pairs outstanding still image capture with Full HD 1080P video recording. For longer video shoots, users can also choose lower shooting resolutions of 720P or VGA.
Features at a glance:
15.1 Megapixel APS-C CMOS sensor

Full HD movie recording with HDMI connection for viewing and playback on an HDTV

ISO 100-3200 (expandable to 12800)

3.4 frames per second continuous shooting

Max. 170 large JPEG images in a single burst

3.0" ClearView LCD with Live View mode

9-point wide area AF with cross type centre point

High speed DIGIC 4 performance and superb image quality

EOS Integrated Cleaning System

Full compatibility with Canon EF and EF-S lenses and EX-series Speedlites, including new Speedlite 270EX, TS-E 17mm f/4L and TS-E 24mm f/3.5L II
15.1 MP CMOS sensor
Ideal for those who want to create large, poster-size prints – or crop images to perfection without losing any of the detail necessary for printing – Canon's 15.1MP CMOS sensor is outstanding in low light, and produces images with incredibly low noise.
Full HD movie recording
The EOS 500D combines exceptional still shooting with the ability to shoot Full HD (1080p) video. For occasions when larger amounts of footage need to be stored on a memory card, users can also choose to shoot at 720p or VGA resolution. An HDMI connection allows High Definition playback of footage and images on any HDTV.
High ISO for low light
When light levels fall, the EOS 500D offers an ISO range of up to 3200 – expandable to 12800 for those environments where using flash is undesirable.
3.4fps with up to 170 JPEG burst
The EOS 500D features shooting speeds of up to 3.4fps in continuous bursts of up to 170 large JPEG images (9 RAW).
3.0" Clear View LCD with Live View mode
Detailed checks on images and video are possible with a 3.0" ClearView LCD screen, which features an ultra-high 920,000 dots for increased clarity. Switch to Live View mode and use the real-time visual feed to shoot from awkward angles.
9-point AF system
A high-precision AF system employs 9 AF points AF Points are located throughout the frame to better accommodate off-centre subjects. For accurate focusing with fast aperture lenses, the central AF point features a high sensitivity cross-type sensor, suitable for lenses with an aperture of f/2.8 or faster.
DIGIC 4
Canon's DIGIC 4 processor works with the CMOS sensor to deliver 14-bit image processing, for smooth gradations and natural looking colours. DIGIC 4 also powers advanced Noise Reduction when shooting at higher ISO speeds, plus split-second startup times and near-instant image review after shooting.
EOS Integrated Cleaning System
Canon's built-in dust prevention system offers three ways of guarding images against the effects of dust: reduction of internal dust generation; an in-camera sensor cleaning mechanism; and the ability to map stubborn dust sports for removal with the included Digital Photo Professional software.
Full EF/EF-S and EX Speedlite compatibility
The EOS 500D is compatible with Canon's full range of EF and EF-S lenses and EX-series Speedlites. This allows the creation of a shooting system as unique as the photographer using it.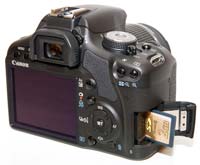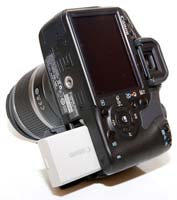 Technical Specifications for Canon EOS 500D
Type
Type
Digital, single-lens reflex, AF/AE camera
Recording medium
SD and SDHC card
Compatible lenses
Canon EF lenses (including EF-S lenses)
Lens Mount
Canon EF mount
Image Sensor
Type
CMOS sensor
Effective Pixels
Approx. 15.10 megapixels
Image Sensor Size
22.3mm x 14.9mm
Aspect ratio
3:2
Dust deletion feature
Auto, Manual, Dust Delete Data appending
Recording System
Recording format
Design rule for Camera File System 2.0
Image type
JPEG, RAW (14-bit Canon original)
RAW + JPEG simultaneous recording possible
MOV
Recording pixels
(1) Large: Approx. 15.10 megapixels (4752 x 3168)
(2) Medium: Approx. 8.00 megapixels (3456 x 2304)
(3) Small: Approx. 3.70 megapixels (2352 x 1568)
(4) RAW: Approx. 15.10 megapixels (4752 x 3168)
File numbering
Consecutive numbering, auto reset and manual reset
Imaging Processor
Picture Style
Standard, Portrait, Landscape, Neutral, Faithful, Monochrome, User Def. 1-3
White Balance
Auto (AWB), daylight, shade, cloudy, tungsten, light, white fluorescent light, flash, custom (custom WB)
Noise Reduction
Applicable to long exposures and high ISO speed shots
Automatic Image Brightness Correction
Auto Lighting Optimizer with Face Detection
Highlight Tone Priority
Provided
Lens Peripheral Illumination Correction
Provided
Colour Space
sRGB, Adobe RGB
Viewfinder
Type
Eye-level pentamirror
Coverage
Vertical/Horizontal approx. 95%
Magnification
Approx. 0.87 x (-1m-1 with 50mm lens at infinity)
Eyepoint
Approx. 19mm (From eyepiece lens center at -1m-1)
Built-in dioptric adjustment
-3.0 - +1.0 m-1dpt
Focusing screen
Fixed
Mirror
Quick-return type
Depth-of-field preview
Enabled with depth-of-field preview button
Autofocus
Type
TTL secondary image-registration, phase detection
AF Points
9
AF Working Range
EV -0.5 - 18 (at 23°C/73°F, ISO 100)
Focusing Modes
One-Shot AF, AI Servo AF, AI Focus AF, Manual focusing
AF-assist beam
Intermittent firing of built-in flash
Effective range: Approx. 4.0m/13.1 ft. at center, approx 3.5m/11.5ft at periphery (with an EOS-dedicated Speedlite attached, the Speedlite's AF-assist beam is emitted instead)
Exposure Control
Metering Modes
TTL full aperture metering with 35-zone SPC
(1) Evaluative metering (linkable to all AF points)
(2) Partial metering (approx. 9% of viewfinder at center)
(3) Spot metering (center, approx. 4% viewfinder)
(4) Center-weighted average metering
Metering range
EV 1-20 (at 23°C/73°F with EF50mm f/1.4 lens, ISO 100)
Exposure control
Program AE, shutter-priority AE, aperture-priority AE, depth-of-field AE, full auto (Program AE non-shiftable), Programmed Image Control Modes (Portrait, Landscape, Close-up, Sports, Night Portrait, Flash OFF), manual exposure (including bulb), E-TTL II autoflash program AE (evaluative & average metering)
ISO Speed (Recommended exposure index)
ISO 100-3200 (whole-stop increments), ISO expansion 6400, 12800.
* In Basic Zone modes, Auto ISO sets the ISO automatically within 100-1600
*The minimum ISO speed when (highlight tone priority) is enabled will be ISO 200
Exposure compensation
+/-3 stops in 1/3-stop or 1/2-half increments, Manual and AEB correction
AE lock
Auto:
Applied in One-Shot AF mode with evaluative metering when focus is achieved
Manual:
By AE lock button
Shutter
Type
Electronically-controlled, focal-plane shutter
Shutter Speeds
1/4000 sec. to 30 sec., bulb (Total shutter speed range. Available range varies by shooting mode.)
X-sync at 1/200 sec.
Drive System
Drive modes
Single, continuous, Self-time 10sec. Delay//Remote control, self-timer 2sec. delay, Self-timer 10sec delay + continuous shooting (2 to 10 shots)
Continuous shooting speed
Max. approx. 3.4 shots/sec.
Max. burst
JPEG Large/Fine: Approx. 170 shots
RAW: Approx. 9 shots
Built in Flash
Type
Auto pop-up, retractable, built-in flash in the pentamirror
Guide No.
13/43 (at ISO 100 meters/feet)
Recycle time
Approx. 3 sec
Flash coverage
17mm focal length (equivalent to 27mm in 135 format)
Flash metering system
E-TTL II autoflash (evaluative, average), FE lock
Live View Functions
Shooting modes
Still photo shooting and movie shooting
Focusing
Quick mode (Phase-difference detection) Live mode, Live face detection mode (Contrast detection) Manual focusing (5x/10x magnification possible)
Metering modes
Evaluating metering with the image sensor (still photos) / Center-weighted average metering (movies)
Metering range
EV 0-20 (at 23°C/73°F with EF50mm f/1.4 lens, ISO 100)
Movie
MOV (Video: H.264, Audio: Linear PCM)
Recording size: 1920 x 1080:20fps (Full HD), 1280 x 720:30fps and 640 x 480:30fps (SD)
Continuous movie shooting time: Full HD approx. 12 min.
SD approx. 24 min. Max file size: 4GB per clip
LCD Monitor
Type
TFT colour liquid-crystal monitor
Monitor Size and Dots
3-in. with approx. 920,000 dots (VGA)
Coverage
Approx. 100%
Brightness adjustment
Manual (7 levels)
Interface languages
25
Image Playback
Image Display Formats
Single, Single + Info (Image-recording quality, shooting information, histogram) 4-image index, 9-image index, image rotate possible
Zoom Magnification
Approx. 1.5x - 10x
Image Browsing Methods
Single image, jump by 10 or 100 images, jump by screen, by shooting date, by movie, by stills
Highlight Alert
Overexposed highlights blink
Movie Playback
Enabled (LCD monitor, video/audio OUT, HDMI OUT) Built-in speaker
Direct Printing
Compatible printers
PictBridge-compatible printers
Printable images
JPEG and RAW images
Print Ordering
DPOF Version 1.1 compatible
Interface
Digital Terminal
For personal computer communication and direct printing (Hi-Speed USB) , audio/video output (NTSC/PAL)
HDMI Mini OUT Terminal
Type C (Auto switching of resolution)
Remote Control Terminal
Compatible with remote control via RS-60E3
Wireless Remote Control
With Remote Controller RC-1/RC-5
Power Source
Battery
Battery Pack LP-E5 (Qty.1)
*AC power can be supplied via AC Adapter Kit ACK-E5
*With Battery Grip BG-E5 attached, 6 size-AA/LR6 batteries or 2 LP-E5 battery packs can be used
Battery Life (Based on CIPA testing standards)
With viewfinder shooting:
At 23°C/73°F, approx. 500 shots. At 0°C/32°F, approx. 490 shots.
With Live View shooting:
At 23°C/73°F, approx. 190 shots. At 0°C/32°F, approx. 180 shots.
Dimensions and Weight
Dimensions (W X H X D)
128.8 x 97.5 x 61.9 mm / 5.1 x 3.8 x 2.4 in.
Weight
Approx. 480g / 16.9oz. (body only)
Operating Environment
Working temperature range
0°C - 40°C / 32°F - 104°F
Working humidity
85% or less